What Is A CBCT scan?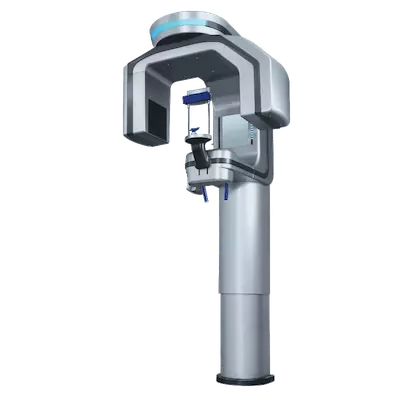 A CBCT (Cone beam computed tomography) scan uses particular imaging technology to capture 150+ images of your mouth from different angles. They are then digitally compiled into one three-dimensional (3D) image. Below are some common CBCT Scan questions patients in the Washington DC area have asked our dental team at Miles Of Smiles Implant Dentistry.
What Is The Difference Between A CBCT Scan And A X-Ray?
You have probably heard of or received a full mouth X-ray or panoramic X-rays (PANO) from a dentist in the past. Compared to these standard X-rays, a CBCT scan is more precise and effective for capturing information about your dental health.
Full Mouth X-Ray — Typically taken every 3-5 years by your dentist. The FMX takes images of each tooth and the surrounding structures. Dr. Noumbissi will use a full mouth X-ray to diagnose gum disease, cavities, dental abscesses, and lesions.
Panoramic X-Rays (PANO) — A single picture image most often used by oral surgeons and orthodontists. This type of X-ray does not provide explicit detail.
CBCT technology also uses less radiation and requires fewer scans to see your mouth's different views and angles. Unlike traditional dental X-rays, the cone beam CT scan can show bones and soft tissues.
Why Do I Need A CBCT Scan?
Since a CBCT scan shows all your bones, nerves, and soft tissues in detail. Our highly trained implant surgeon, Dr. Sammy Noumbissi can diagnose your health and plan our treatment approach before we even begin the dental implant procedure. More so, this advanced dental technology is crucial for successful dental implant surgery planning and placement. CBCT scans help your implant surgeon:
Provide accurate measurements, including shape and dimensions of the jaw.
Identify gum issues
Detect lesions that may indicate severe disease.
Locate the origin of any pain.
Evaluate your sinuses, nasal cavity, and nerve canal.
Is a CBCT scan safe?
Yes, CBCT scans are safe. Even though CBCT scans use low radiation, it's significantly less than traditional CT scanners.
What Are The Benefits Of A CBCT Scan?
There are numerous benefits to getting a 3D scan before having a single or multi-tooth dental implant placement in the Washington DC area. Some of the top reasons are:
Higher-quality image: The focused X-ray beam reduces scatter radiation.
Complete evaluation: Dr. Noumbissi will factor in anatomical features that X-rays don't show.
Accurate dental diagnosis: Feel confident knowing Dr. Noumbissi analyzed detailed information about your mouth.
Precise treatment planning: Dentists predominantly use CBCTs to plan procedures, especially for dental implants.
Fewer complications: Your implant dentist can identify difficulties in advance and take proper steps to avoid or minimize the risk.
Successful outcomes: Receive dental care done right the first time with long-lasting results.
Do I need a CBCT Scan for Dental Implants?
Yes, absolutely. The purpose of using a CBCT scan is to make it safer. It creates predictable clinical results, increasing surgery success rates and drastically decreasing complications.
Schedule An Appointment Today!
Contact our implant surgeon at Miles Of Smiles Implant Dentistry at (301) 709-3020 with additional questions if we did not cover your questions in the common CBCT Scan questions above. We have successfully treated many ceramic dental implant patients with the utilization of our CBCT technology from Silver Springs, Columbia, Annapolis, Burtonsville, Rockville, Baltimore, MD, and throughout Maryland, Virginia, and Washington DC.