Types Of Bone Grafts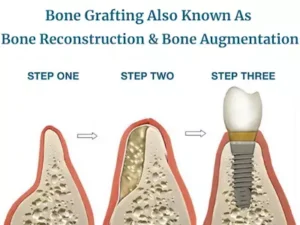 Tooth loss brings many changes to your mouth. Probably the most noticeable difference is that your smile is affected. Simple tasks, such as eating and speaking, can become a challenge. These issues only get worse the more teeth you lose. Something else happens that you can't see, at least not right away. When we lose a tooth, our jawbones begin to resorb or weaken. When this happens, several things can happen. The first is your jawbone can change shape. It changes shape because your remaining teeth shift from their natural positions, throwing off your bite. Your lips and cheeks sink in, and your skin begins to sag. Wrinkles form around your lips and eyes. Suddenly you look 20 years older, almost overnight. There are several types of bone grafts that Dr. Sammy Noumbissi may perform based on your dental needs.
Zirconia dental implants are a popular option for replacing missing teeth. However, if you wait too long before getting dental treatment, your weakened jawbone will be unable to support implants successfully. At Miles Of Smiles Implant Dentistry, our dental implant surgeon, Dr. Sammy Noumbissi, has a sole focus on dental implant surgery and restoring the integrity of your jawbone to allow patients to receive dental implants with a bone graft.
WHAT IS BONE GRAFTING?
Bone grafting is a procedure used to maintain or enhance bone volume in an area of the jaw to facilitate dental implant placement or support the health of existing teeth. The dentist frequently uses this technique to promote bone growth when extracting a tooth. In addition, our implant surgeon, Dr. Noumbissi uses bone grafting to regenerate bone where the bone has deteriorated over time.
TYPES OF BONE GRAFTS
Every patient's needs are unique. There are several different varieties of bone grafts, and our implant surgeon, Dr. Sammy Noumbissi, will determine the best one to provide you with optimal results:
Autogenous graft – An autogenous graft uses your bone material. Since it is your bone material, the bone is living. As such, the graft material can promote new bone growth. In addition, because it is your bone, there is no risk of infection or rejection.
Allogenic Bone Graft – An allogenic graft uses bone material from a donor. The bone is not living. Dr. Noumbissi uses allogenic grafts to fill the void left behind by bone loss. Your bone will grow around it.
Xenogenic Bone Graft – A xenogenic graft uses bone material from another species. First, they process the bone material at extremely high temperatures, which reduces the risk of infection and rejection.
Synthetic Materials – In some cases, we may use a synthetic bone graft material to fill the spaces created by resorption. Demineralized bone matrix and bone morphogenic proteins are a few different types of synthetic graft material
HOW IS A BONE GRAFT PERFORMED?
Before receiving a bone graft, we start with a personalized consultation. Next, Dr. Sammy Noumbissi will examine your mouth and take digital images. These images allow us to see the exact condition of your jaw and enable us to create an effective treatment plan.
The surgery starts with a local anesthetic. The patient may also take a sedative to help you relax. We then make incisions in your gums, providing access to your jawbone. Other incisions are made at the "donor" site if we are using your bone tissue. Next, the bone tissue is taken from the donor site and placed in the areas of weakness in your jaw. Lastly, we stitch closed the surgical sites and send you home to begin the healing process. Once you have recovered from your bone graft, you can start the procedure for zirconia dental implants.
Contact Miles Of Smiles Implant Dentistry Today!
If you lack bone mass in your jaw, rendering you ineligible for dental implants, bone grafting can help. Call Miles Of Smiles Implant Dentistry at (301) 709-3020 today with any questions or to set up a consultation! Our office treats patients for bone grafts from Silver Spring, Columbia, Annapolis, Rockville, and Burtonvsille, MD and throughout the greater Washington DC area including Fairfax, Arlington, VA.
Miles Of Smiles Implant Dentistry
801 Wayne Ave # G200
Silver Spring, MD 20910
Phone: (301) 709-3020
Request A Personalized Consultation Today!
"*" indicates required fields