Bone Grafting /
Bone Augmentation
Bone Grafting / Bone Augmentation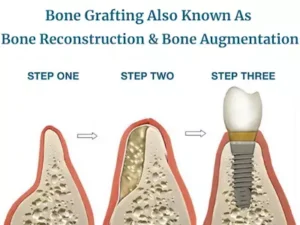 Whether your bone depreciation is due to missing teeth, gum issues, or a different ailment, bone grafting will help you preserve the structure and mass of your jaw bone. Bone Augmentation also allows you to keep a healthy appearance and vibrant smile for years to come.
Dr. Sammy Noumbissi and his associate dental professionals provide premier dental grafting services in Silver Spring, MD. Dr. Sammy Noumbissi will use sedation dentistry techniques and practices to ensure your comfort throughout the entire procedure. Sedation guarantees a stress-free experience with absolutely no pain and zero anxiety.
Bone Grafting Specialists Silver Spring Area
Bone augmentation will result in renewed bone growth. It will also help prevent gum disease. When executed by a bone grafting specialist like Dr. Sammy Noumbissi, it will prolong the patient's overall oral health. Dr. Noumbissi uses a bone graft to correct a defect or deficiency in a patient's bone by using bone originally from the patient. Bone graft procedures are needed in sites without teeth for zirconia dental implant placement at a later appointment.
The Process – Bone Augmentation Procedures
Dental bone grafts typically take 45 to 90 minutes, and we do them right in our office. The initial recovery period can take around two weeks. After that, it takes roughly three to six months for the solid bone mass to "be received" in many cases.
The Advantages of Bone Grafting
There are numerous advantages of bone augmentation/grafting for the patient. Some of the benefits include:
A less invasive procedure
The ability to build your bone
Less pain and swelling throughout the process
Less treatment and healing time
Our oral surgeon in Silver Spring provides superior services, regardless of your needs. We have the experience and mastery to handle any situation you may be facing, including bone augmentation. Don't hesitate to search us online and fill out the appointment form to receive more information regarding your different bone augmentation options. In addition, please feel free to call us at (301) 709-3020 to schedule a personalized consultation with Dr. Noumbissi.
Contact Mile Of Smiles Implant Dentistry Today!
Don't wait. Preserve the foundation of your oral health with bone augmentation! Miles of Smiles Implant Dentistry treats patients for bone grafting / bone augmentation from Silver Spring, Columbia, Annapolis, Rockville, and Burtonsville, Kensington, Chevy Chase, Bethesda, MD and throughout Maryland, Virginia, and Washington DC.
Miles Of Smiles Implant Dentistry
801 Wayne Ave # G200
Silver Spring, MD 20910
Phone: (301) 709-3020
Request A Personalized Consultation Today!
"*" indicates required fields