Benefits of
Zirconia Dental Implants
Benefits of Zirconia Dental Implants
What Are Zirconia Dental Implants?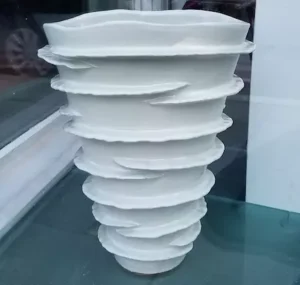 Zirconia dental implants are ceramic, a hypoallergenic material that resists high-impact pressure and is naturally aesthetic. As a result, zirconia dental implants (also known as ceramic dental implants) offers patients a more natural dental implant alternative. Our implant dentist, Dr. Sammy Noumbissi, is your best choice when replacing your missing teeth with ceramic metal-free dental implants. Patients travel to Miles Of Smiles Implant Dentistry from Columbia, Baltimore, Annapolis, Burtonsville, MD and throughout the greater Washington DC area, including Arlington and Fairfax, VA. to Mile Of Smile Implant Dentistry to receive the benefits of zirconia dental implants.
What Are The Benefits of Zirconia Dental Implants?
Outstanding Esthetic: A zirconia metal-free dental implant's beautiful naturally white tooth color does not show through the gum tissue and looks natural.
Allergies & Sensitivities: Dr. Sammy Noumbissi has successfully treated many patients with metal allergies with ceramic dental implants. Unlike traditional titanium dental implants, Zirconia (Ceramic) dental implants are made of a non-metal, ceramic material. There is no documentation that ceramic dental implants have caused an allergic reaction in patients.
Strength: Zirconia shows superior biomechanical properties like bending strength and high fracture toughness. The properties give zirconia (ceramic) dental implants the ability to withstand masticatory(chewing) forces.
Optimal Osseointegration: Clinical studies demonstrate that the osseointegration of zirconia metal-free dental implants is comparable with traditional titanium dental implants.
Biocompatible: Zirconia (ceramic) is a biocompatible material considered safe with FDA approval. Dental implants manufactured from zirconia are non-toxic and interact favorably with the human body.
Low Plaque Affinity: Zirconia dental implants have low plaque affinity, making an oral environment that promotes healthier gums, more minor amounts of inflammatory infiltrate, and ideal soft tissue integration leading to a lower risk of peri-implant disease.
Health Conscious Patients: Nowadays, patients are health-conscious more than ever before. Zirconia dental implants address those patients' needs. The dental implant is white-colored like a natural tooth, providing a highly esthetic, metal-free alternative to traditional titanium dental implants.
Scientifically Proven: Metal free dental implants have been a successful dental implant option for patients since the late 1980s. Since 2007 the US has shown promising results with the success of ceramic dental implants. Dr. Noumbissi has successfully placed over 5000 ceramic dental implants for patients from Silver Spring, Rockville, and Burtonsville, MD and all around Maryland, Virginia, and Washington DC.
No Titanium Ions Release: Recent studies indicate an association between peri-implantitis and the increased levels of dissolved titanium released from titanium dental implants into the surrounding tissues. Peri-implantitis forms as a bacteria in the gums around the dental implant. Like gum disease, it causes damage to the gums and teeth around it.
Closer To Nature: Blood flow in the tissue surrounding zirconia dental implants is similar to the blood flow in the soft tissue around natural teeth.
Schedule A Dental Implant Consultation
Contact our dental team at Miles Of Smiles Implant Dentistry at (301) 709-3020 to schedule your personalized zirconia metal free dental implant consultation to discuss your smile's best course of treatment. We have successfully treated patients at our dental office in Silver Springs with Zirconia dental implants from Columbia, Annapolis, Baltimore, Kensington, MD, and throughout the greater Washington DC area including Fairfax and Arlington, VA.
Miles Of Smiles Implant Dentistry
801 Wayne Ave # G200
Silver Spring, MD 20910
Phone: (301) 709-3020
Request A Personalized Consultation Today!
"*" indicates required fields